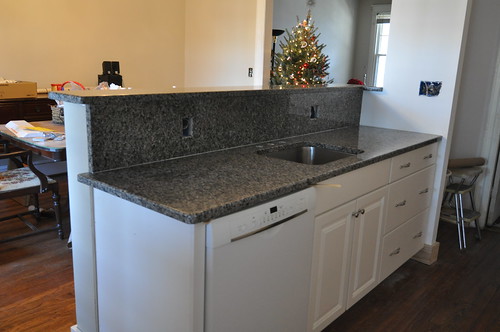 Changing the look of your kitchen, bathroom, or fireplace can make a major difference in your home's aesthetic and your enjoyment of the space. It can also be exceptionally expensive. Many homeowners long for the impressive and luxurious look of granite countertops and even matching backsplashes, but are taken aback by the hefty price that these improvements tend to bring. Choosing a company that completely changes out your existing countertops or fireplace area can also require extensive demolition that can be noisy, messy, and time-consuming. All of these factors contribute to homeowners hesitating to begin large home improvement projects. Granite Transformations is an alternative to the hassle and the expense. Average Granite Transformations cost is much lower than that of traditional countertop and fireplace refurbishments, and the nature of the improvements makes them a more time-conscious and stress-free option.
Average Granite Transformations Cost
The Granite Transformations company does not offer flat rates due to the customized nature of each project. Rather, costs are determined on a combined basis of square footage of materials used and labor. Depending on the specifications of your project, the total cost for transforming your kitchen or bathroom countertops or your fireplace is between $55 per square foot and $100 per square foot. This average can vary greatly because each Granite Transformations business is an independent franchise that is controlled by its owner. This means that each owner has the right and ability to charge whatever price they see fit both for the materials and the labor required for each project. It is possible that you could get two very different quotes from two franchises in the same area, so shop around before you select your provider. Even if there is only one Granite Transformations provider in your area it is possible to negotiate the initial quote down.
When you are considering the cost of Granite Transformations it is important to understand why this option is different from traditional countertop replacement. While traditional replacements require a complete demolition of the area, including removal of the old countertop material, Granite Transformations does not have this necessity. Rather than removing the existing counters, or even just the countertops, Granite Transformations take specially-designed top materials and fits them over the existing countertop. This means that your home will not have to undergo drastic destruction that can not only take a tremendous amount of time, but also cause a huge mess. Your countertops can be completely transformed in a day.
The entire process starts when you call for an estimate. Once you discuss with the company the aesthetic result you are hoping for and get an estimate that you accept you will sign a service contract. After this is complete the technician will take extensive measurements of the area to ensure that the custom-created countertops will be an accurate and ideal fit. These measurements will be sent to the workshop where your countertops will be fabricated. When they are ready the technician will return and the team will perform the transformation.
Factors Affecting Granite Transformations Cost
Another reason that Granite Transformations does not offer flat rates for their services is that you have the power to create incredibly customized effects. It is not simply the top of your kitchen or bathroom counter that you can alter. You can also create dramatic matching backsplashes and other details. Because each piece is custom created at the Granite Transformations factory you can design the space of your dreams. Each of the specifications that you choose will make an impact on the cost of your transformation.
When selecting the products for your transformation you can choose granite or glass countertops. Both use high-quality materials to create lasting, durable, and beautiful countertops that can totally change the look and feel of your space. For additional beauty and customization you can choose mosaic tiles to create a coordinating backsplash, dramatic shower, or truly amazing fireplace. To complete the transformation you can also choose acrylic bathtub and sink liners that can create a fresh, new look or add a detail of color.
Getting a free estimate of your Granite Transformations cost is the first step toward creating the aesthetic you want for your home. It can increase the beauty of your favorite space, or prepare the home to be sold or rented.