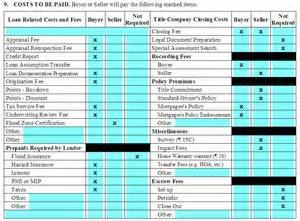 Buying a house is one of the most exciting times in your life, especially if it is your first home. Unfortunately it can also be one of the most stressful as legal requirements, phases, and costs build up and you need to understand how to handle them. One of the biggest parts of the purchase process of buying a home is the period referred to as "closing". You have already discovered that ideal home, the one that you can visualize living your life in and want to make yours. You have gotten your credit approved and put in a bid that was joyously accepted. You have found the right lender to help provide the funding for this major purchase. This lender may be your regular bank or it could be a company specializing specifically in mortgage loans. Either way, you have applied for your loan, been approved, and discussed all of the details. Finally it is time to make the final steps in making the house officially your legal property. This is "closing", and a time that presents many costs. So how much are closing costs when buying a house?
How Much are Closing Costs When Buying a House: the Specifics
Though they come in several forms, the total closing costs of the purchase of a home cost approximately 2% to 4% of the final purchase price of the house, with the average being 3% of the total. For example, if you are purchasing a home with a final purchase price of $250,000, you can expect closing costs of approximately $7,500 with a margin of fluctuation in either direction. There are several factors that go into the amount that you will pay for closing costs on your new home. Some include payments that may have already been made earlier in the purchase process, the specifications and charges of your lender on your financing loan, and payments for such requirements as inspections and other fees.
Typical closing costs can be broken down as follows:
Title policies—these costs are associated with the actual title of the property and include several tasks including ensuring that the physical title actually does correspond with the plot of land and home that you are intending to purchase.
Escrow—this period is when legal documents and payments are given to a neutral third party to be reviewed and distributed appropriately.
Notary
Wire Fees
Delivery charges associated with the sending and receipt of legal documents such as lending papers, contracts, and the actual title.
Attorney Fees—carefully review your agreements to ensure you understand your responsibilities associated with these fees. It is likely that you are responsible for all attorney fees, even those of the seller.
Transfer taxes
Necessary home inspection
Home protection such as fire insurance, flood insurance, and natural disaster insurance
Property taxes
Before you pay any of these closing fees you should carefully examine the papers, including the Good Faith Estimate included in your lending papers, so you can determine if the fees are repetitious. It is possible that some of these fees have already been covered by previous monies paid, or that monies you have already paid have not been properly credited to the final costs. Ensure that any fees or payments you have made have been recorded as a "credit" rather than a "debit" on the costs and that any credits by the seller have been properly applied to your costs. Be cautious when determining if the seller is offering any credits to the closing costs from your down payment or from portion of the purchase amount. Some lenders have a policy of not allowing any such credits, and accepting these credits, or assuming they are going to be applied, can cause undue complication and end up costing you more than you expected.
It is important to remember when finding your answer to "how much as closing costs when buying a house?" that the costs you incur at the closing are not a part of the purchase price, but in addition to the purchase price of the home.