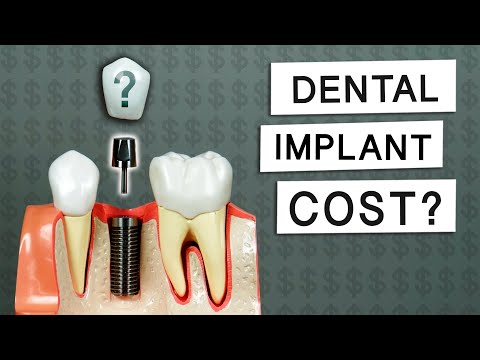 There are many reasons why people lose their teeth. It maybe because of a certain disease, old age, accidents or the natural wear and tear of teeth. Dental implants are becoming very popular for people who want to keep their self-confidence and their smile. Dental implants involve replacing and restoring a patient's missing teeth with an implant which should closely resemble the natural teeth. Not only should dental implants look natural, they should perform like regular teeth do too. A good dental implant is far better than dentures, with no shifting to help bones, gums, and jaws stay healthy.
Average Dental Implant Costs
The median cost of a dental implant is anywhere from $2000 to $4000. In some special cases, it can go as high as $14,000. The specific cost of a dental implant should be estimated by a dentist, as the cost of these implants is based on individual needs and is always determined on a case by case basis.
There are dental clinics that offer dental implants for about $1500 per tooth. There may be additional costs involved. For example, there is an additional fee to pay if there is a need to adjust and prepare the jawbone to accept the dental implant. Most dentists do offer extra discounts for patients who request two or more tooth implant in one session. The cost of a dental implant also depends on the location of the tooth. Back teeth are difficult to reach and are more costly.
The cost of a dental implant also depends on the number of times a patient needs to visit the dentist. Each visit will incur fees and service charges. On top of the treatment cost, there may be medication that might be required for maintenance or pain management.
Other Factors
There are other considerations that can increase the price of dental implants. The price range also depends on the number of teeth that need to be replaced or restored. It also depends on the dentist attending to the patient. A highly experience dental surgeon may charge more. The location of a dental clinic also affects pricing. Dentists in highly urbanized cities tend to charge much more than those in rural areas.
Financing
Before undergoing a dental implant procedure, it is important that a patient should talk to a dentist or a dental assistant to determine cost of the treatment. Ask about the various options and possible alternatives available to cut down on cost. Also inquire about the payment options that the dental clinic offers. Ask if they accept cash or credit cards. For people who want to go through the dental implant procedure but don't have the money at the moment, there are financing companies that offer credit for dental treatment such as dental implants. There are installment plans that are available to help patients in paying for this procedure.
Breakdown of Costs
A patient who wants to have dental implants should consult a dentist. The first consultation is often offered for free or covered by health insurance. For a breakdown of the cost of a dental implant, here is an estimated cost of the procedures involved.
Bone Grafts
Bone grafting is the augmentation of a certain part of the jaw bone that connects to the teeth. This is a surgical procedure that is done in order to reverse loss during a trauma or when adjusting the jawbone to fit dentures. During a dental implant, this process rebuilds the structure of the jaw bone beneath the gums to prepare for the placement of the implants. Bone grafts normally costs $750 and up.
Titanium Implants
These titanium posts are the permanent fixtures that are attached to the jawbone and the replacement tooth. It is the bridge that screws the teeth into the posts. It basically acts like a tooth root that is surgically fixed into the jaw. There are various implant technologies used in this procedure, and the success rates are very high. A titanium implant will cost anywhere from $1000 to $2000.
Attaching the Implant
This surgical procedure entails creating an incision in the gum where the dental implant will be placed. In this procedure, a hole is made in the bone. The tooth implant is placed in the hole, and the incision is stitched and closed permanently. Traditionally, it takes two surgeries that should be 3 to 6 weeks apart to complete this stage, although there are modern techniques that will complete this procedure at a much faster rate. Costs involved in attaching the implant range from $600 to $800.
Crown
A crown is a false tooth that will be used as the permanent tooth during a dental implant procedure. It is made of fabricated materials that resemble the appearance and the feel of natural teeth. The crown can either be cemented on a patient's tooth cap or entirely cover it up. The cost of the crown depends on the materials used to fabricate it and can go anywhere from $800 to $1000.