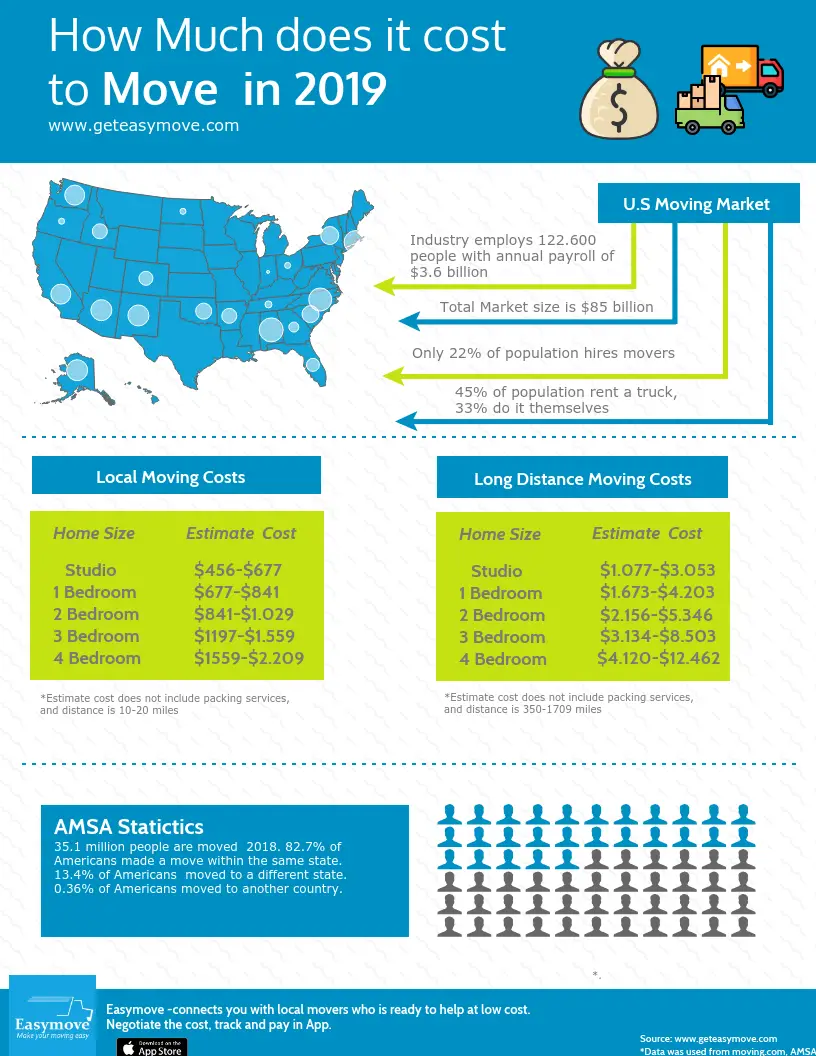 When it comes to hiring movers to transport possessions from one location to another, the reputation of the company plays a huge part in who to hire but so does the cost. There are many factors to consider ranging from how many rooms you have to little extras thrown in such as having the packing done for you. It's all about knowing what to expect, giving and getting detailed information and getting everything in writing. So how much does it cost to hire movers and how can you reduce your costs?
Initial costs
When hiring movers for an in-state move, the cost is usually calculated by the hour. It can sometimes be more expensive to hire movers in larger cities due to the extra hassles they have to deal with such as traffic and apartment buildings with a lot of stairs. For interstate or international moves, the cost is typically calculated by the total weight of all the items. Typically for interstate moves, many will also have a base fee plus will charge by each mile they have to drive.
Estimates
There are two ways movers will usually calculate an estimate. The first is by having an estimated price already set depending on how many rooms there are at the current home. Another way they might calculate an estimate is by coming in with a checklist and totaling up the number of specific furniture pieces, each of which has an estimated cost associated for each piece. For example, an entertainment center, king size bed and two couches will garner a larger estimate than a loveseat and two end tables. The cost provided is only an estimate, so it's important to read the fine print to see how strongly they stick to that estimate when it comes to hand over the check.
Packing
Often moving companies will offer the option of having the movers come in and pack everything up for you, but the service costs extra. They'll usually also bring in their own supplies including boxes, bubble wrap and tape so all they'll need is a bit of direction about what items stay and what goes.
Insurance
Companies who offer insurance will usually cost more than a company or individual that doesn't have any. Should anything go wrong and an item breaks during the move, the company will usually cover the cost of the damage. The company should also offer proper insurance to their employees; in case something happens during the move, the insurance will be able to cover them.
How to Reduce Costs
One huge way to reduce costs is to downsize the items you have. Before packing, go through all the belongings and put aside items to sell, give away or donate. Not only will it help ease the costs regardless of how far the move is but it will also be less stressful to deal with after the move is complete.
Discounts
Many moving companies will distribute coupons and promotions in order to drum up new business, so check around in newspapers and on the different company websites to see if there's any codes or coupons available for new clientele. Also, if you're referred to a specific moving company by a friend who has previously used them, let the company know how you heard about them. Some offer a certain dollar amount or percentage off the final cost if you were referred by someone.
Friend Factor
Another way to save money is to ask friends to help with the move. Friends will often have no problem doing a favor for the cost of a thank you and free dinner and drinks. However, one downside to this is that if any items get broken or damaged in the move, there's no insurance to cover a replacement item and the friend might not want to pay for it out of pocket. It's an especially important factor to consider if you have a lot of valuable and fragile items that need to be transported. Also, should one of the friends get hurt, the costs of the health bills might also end up your responsibility.
Don't hesitate to ask questions; a good moving company will make sure you're happy and all your items end up where they're supposed to be and in one piece. When it comes to hiring movers, read every page of the contract, get and give accurate details about what needs to be moved and make sure everything is written down; nothing should be just verbal. It will help prevent any misunderstandings about costs and can allow everyone to be on the same page.