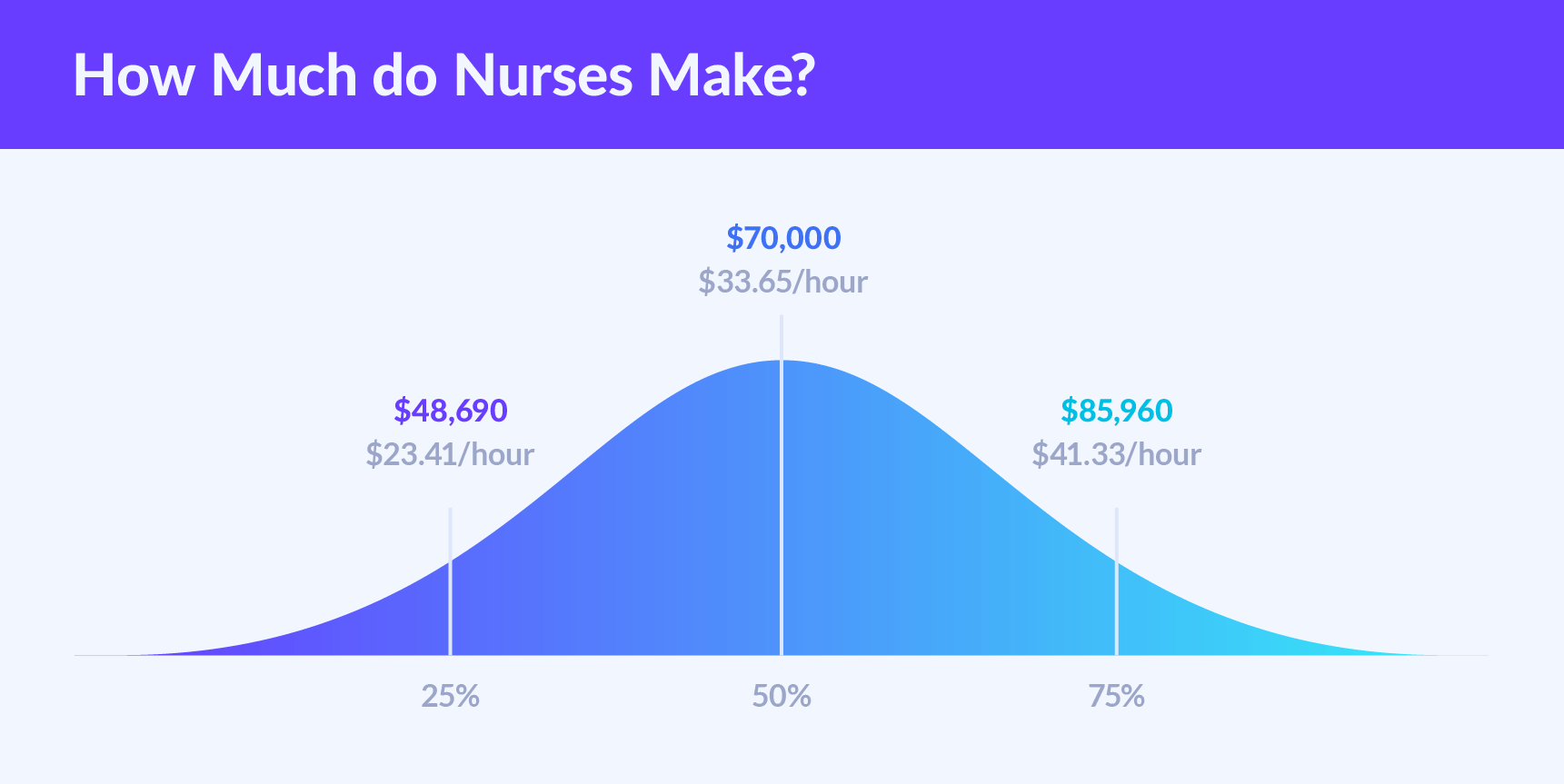 Once a vision in white with an angular halo, the nursing professional is an indispensable element in medical care. Today nurses are more likely to wear scrubs in colors and patterns of their choice, and the traditional nurse's cap is long gone, but their role in caring and their compassionate natures remain. If you are thinking about entering the field of nursing or know someone who is, one of the key factors you probably want to know is how much nurses make.
Uniforms vs. Scrubs
Depending on you age, you may not know that nurses really did wear all white. Until the late twentieth century, nurses were known for their white dresses, stockings, shoes, and most notably, the cap. The change to scrubs was welcomed by nurses but difficult for patients who sometimes wondered if the person walking into their room was there to give them a pill or empty the trash bin.
Nurses say, and rightly so, that it is not the uniform but the training and experience that sets them apart from other role in the hospital. Still, patients continue to express their opinions. Especially older patients long for the days when you could spot the nurse on sight.
In 2010, nurses in a Florida hospital were looking for ways to improve patient satisfaction. One unit decided dressing in white, with the caps, for eight weeks to see if it had any impact.
Patients were so much happier with the new (though temporary) dress code that the hospital changed it permanently. All nursing staff there now wears white uniforms or scrubs, though the cap is not required.
Whatever your nurse is wearing, he or she is a highly trained professional. There are different levels of training and responsibilities among the three tiers of nursing, but each and every nurse has a caring and compassionate soul.
Nurses' pins.
Registered Nurse
A registered nurse (RN) has received the maximum education and training, usually a bachelor's degree. She is a professional the moment she walks through the door, having done all the entry-level tasks of a LPN/LVN during her training.
The RN can perform all the nursing duties that LPN's and CNA's do (see below). Additionally, a RN can make independent decisions in line with physician orders, administer medication and patient tests, and supervise LPN's and CNA's.
RN's have more opportunity to specialize than the other classes of nursing professionals do. An RN can choose to work in obstetrics, neo-natal, pediatrics, oncology, burn unit, geriatrics, and a host of other areas including a variety of choices within the surgical unit and emergency room.
Choices are greater for RN's outside of the hospital, too. They work in schools, nursing homes, doctors' offices, the military, hospice homes, and in various roles in business related to the medical field.
With additional education and experience, an RN can advance to supervisory and higher management levels and with a DNP, become a nurse practitioner.
Qualifications
The minimum education for a registered nurse is an associate's degree in nursing science. Like any other career, with more education you increase both your choices and earning potential. This is why many RN's pursue the bachelor's of science in nursing (BSN) or master's of science in nursing (MSN) before beginning their careers or, in the case of the MSN, soon after.
The RN must pass the license examination for the state where they live. Most states honor other states' licensing, so this is not something you will have to repeat if you move to the other side of the country some day.
Employment Outlook
The need for registered nurses is expected to continue to exceed that of most other jobs between now and 2024 at a rate of 16% overall.
Work Conditions
As mentioned earlier, the RN has the most flexible of all nursing careers. Work environment may be a traditional hospital or physician's office, in a school, rehabilitation facility, correctional institution, or wherever the top level of training and status in nursing is needed. RN's are in extremely high demand, so full-time work is steady and sometimes offers flexible hours.
Licensed Practical Nurse (Licensed Vocational Nurse)
A licensed practical nurse (LPN) or licensed vocational nurse (LVN) is the same nursing position. In the United States, the LPN designation is used everywhere except California and Texas, where LVN is used.
The LPN or LVN has received sufficient education to be licensed at this tier of nursing professional. This position is an entry level nurse in a way. It is a great middle ground for entry into the world of nursing, and completing the additional requirements to become a RN is fairly easy from there.
LPN's work in hospitals, doctors' offices, long-term care facilities, nursing homes, and in home health care. In a hospital environment, the LPN will be supervised by an RN and is unlikely to ever achieve supervisory or management status. Also, the LPN does not usually have the opportunity to specialize as the RN does, such as becoming a neo-natal or oncology nurse.
However, in a long-term care facility or nursing home, the LPN does have a supervisory role and can enter into management. This is why more LPN's work in those facilities than in hospitals.
Qualifications
Nursing programs for LPN licensure range between one and two years and do not usually lead to a degree. The candidate is required to take the state's LPN license exam.
Employment Outlook
Like the RN, the need for licensed practical (or vocational) nurses is expected to grow at a rate higher than most other jobs between now and 2024 at the same 16% rate.
Working Conditions
The LPN or LVN has generally good working conditions in hospitals, nursing homes, and other places where quality, basic nursing care is needed. The role is in fairly high demand, so employment is steady.
Future CNA's in training.
Certified Nursing Assistant
Like the LPN and LVN, the certified nursing assistant (CNA) and the state tested nursing aide are the same position. In this case, the CNA title is used in every single state except Ohio, where the STNA designation is employed.
The CNA (STNA) is the lowest status of nurse but it is a good entry point for people who cannot afford additional training or who have to get into the workforce sooner that the RN or LPN (LVN) training will allow. From there, you can complete training for the LPN position as a midpoint to the RN or just go for the RN through a variety of non-traditional or distance learning programs.
The CNA (STNA) has a variety of choices as to work site. You will see CNA (STNA) staff in nursing homes, doctor's offices, hospitals, home health agencies, day care centers, urgent health offices, and more. The key is that a CNA (STNA) has to work under the supervision of a RN or LPN. There is no exception to this.
Pay for a CNA (STNA) is significantly lower than what a RN or LPN receives. This reflects the amount of training received. With experience this improves. Also, where you work matters a lot in terms of pay. A CNA (STNA) working in a hospital will earn more than one working in a nursing home.
Qualifications
The CNA (STNA) certification course is between two and four months. It will include clinical rotations and hands on training in a classroom lab. Once training is completed, a certification exam is administered. CNA (STNA) applicants must have a high school diploma or GED.
Employment Outlook
The future employment opportunities for CNA's (STNA's) are even stronger (slightly) than that of the RN or LPN at 17% through 2024. That is much higher than most other jobs in other fields.
Working Conditions
The certified nursing assistant (state tested nursing aide) position is the most stressful of nursing roles. It is an excellent way to see if you have the disposition for nursing.
Since the CNA (STNA) spends the most time in one-on-one patient care, his or her role is perhaps the most needed in a nursing environment. This leads to long hours and shift work that can change with short notice.
Also, being so close in patient care, the CNA (STNA) is often caring for severely disabled individuals, and the dying. This adds to the stress of the job tremendously. Truly, the CNA (STNA) who stays in this role because it is what he or she wants to do is among the most precious angel souls in medicine.
How Much?
As you might imagine, there is considerable difference between what the three statuses of nurses receive in salary. We will draw upon median salary data from 2015 according to the Bureau of Labor Statistics (BLS).
Here is how much each type of nurse makes, on average:
Registered Nurse — $67,490 annually and $32.45 per hour;
Licensed Practical Nurse (or LVN) — $43,170 annually and $20.76 per hour; and,
Certified Nursing Assistant (or STNA) — $25,710 annually and $12.36 per hour.
The field of nursing offers a career path for anyone having the traits and skills that are needed. There is high need for nurses and that demand will only grow further. How much a nurse makes is a small part of the reason he or she is doing the work. It is their dedication to the calling, their compassion and mercy, that drives them, and we are all so very grateful they are there for us in our most difficult times.