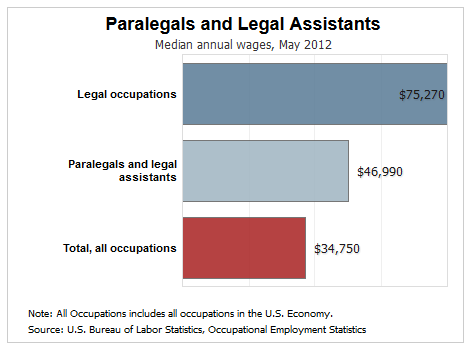 The Paralegal Profession
The law profession encompasses nearly the entirety of daily life in the United States. After all, everyone, at some point in his or her life, will need to consult an attorney. Lawyers hold positions of great significance; they work as societal advocates in everything from the purchase of new homes to the composition of final wills. Less well known, however, but equally important, are the men and women who work behind the scenes to facilitate closings, schedule hearings, prepare for trial dates, and organize corporate meetings. Paralegals, or legal assistants as they are also known, work closely with attorneys in nearly all aspects of the law. In fact, paralegals often manage the bulk of daily duties needed to maintain an efficient law practice.
Paralegals may fulfill any number of the preparatory functions required in a law practice including filing records and affidavits, drafting important documents such as mortgages and divorce papers, and creating complex estate plans. Paralegals are also well versed in the latest software packages which may consist of not only word processing and spreadsheet programs, but also specialized software packages such as tax programs or record databases. Legal assistants are often expected to research information across a wide series of legal sources in order to draft and complete vital legal documents. Specific roles of the paralegal will vary depending on whether the individual works in a corporate, litigation, or government law office.
Education and Paralegal Training
In the past, paralegals were trained from scratch on the job by working alongside an attorney; this process, common not long ago, has become less popular in recent years. Increasingly, paralegals entering the workforce have already earned at least a two-year associate degree. Associate degree programs offer important academic courses coupled with formal paralegal training. Thousands of colleges, community colleges, universities, and law schools across the United States offer comprehensive paralegal training courses. Many of these programs will assist students in job placements after they graduate. Individuals researching prospective training programs may also wish to look into internship opportunities. Schools with internship programs guarantee practical, real life work experience to their graduates. Paralegals seeking to further their educations may also earn bachelors or even masters degrees in paralegal studies from participating colleges and universities. Institutions officially accredited by the American Bar Association (ABA) stand out to law practices and ensure the greatest opportunities for employment as a paralegal.
Paralegal Certification
Although not officially required for employment as a legal assistant, the vast majority of law practices either seek out candidates with certifications or else require individuals to earn their certifications after employment. Paralegal certifications are administered through three nationally recognized paralegal organizations: The National Association of Legal Assistants (NALA), The American Alliance of Paralegals, and The National Federation of Paralegal Associations (NFPA). All three groups have detailed requirements to test applicants in established standards. The prerequisites for certification vary across the three organizations according to education and experience. All three, however, require regular re-certification after a set number of years to assure competence in the profession. Most institutions offering paralegal training will also offer guidance to students in the steps necessary to earn the proper certification.
Paralegal Earnings
Legal assistants work in specific aspects of the law that may demand specialized education and training. For this reason, the yearly income of many professional paralegals is well above the average salaries of most occupations. Salaries, however, vary among legal assistants according to individual education, experience, and specialization within the profession. According to the Bureau of Labor Statistics, the average median income for a fulltime paralegal in 2008 was $46,120. Paralegals working for offices in the federal government earned the highest paid salaries with an average income of $58,540, followed closely by paralegals working in corporate and employment services law. The top ten percent of highest paid legal assistants earned over $70,000 in yearly income in 2008. In addition to salaried incomes, legal assistants may also receive bonuses for additional hours worked as well as receive standard work benefits such as vacation, paid sick leaves, and health insurance. Many employers also reported reimbursement payments to their legal assistants for continued paralegal education and certifications.
Paralegal Job Outlook
Growth in the paralegal profession is projected to average over 28 percent in the next 15 years. This is a projected growth much higher than the rest of the job market. As a high growth occupation, paralegals will be in heavy demand. Employers, especially in the private sector where over 26 percent of law firms are independent businesses or partnerships, will need qualified legal assistants to manage daily operations. Increased competition for jobs will mean that law firms will actively seek candidates with formal training and internship experience.