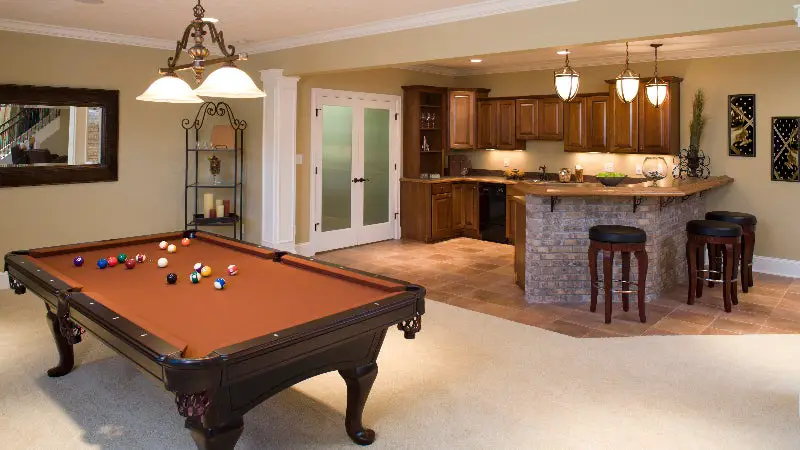 Many homeowners dream of putting an addition onto their current home to expand their living space and enhance its appeal and functionality. Some don't realize that they already have the extra space sitting just beneath them, all they have to do is finish it. Finishing a basement not only provides homeowners additional usable living space, but it increases the value of the home, for far less than they could expect to pay for an addition. So, how much does it cost to finish a basement?
Hiring a Professional
Hiring a professional is the option of choice for most homeowners, as it lets them avoid the effort, complication, and potential problems associated with doing it themselves. If you decide to work with a contractor you will be quoted a price based on the square footage of your basement, as well as the options that you elect for the finishing. There will be a base price that would apply to the basic finishing package, and a rate by which the cost would increase with each additional option chosen. Though the amount charged by contractors for finishing a basement ranges between $25 and $50, the average homeowner can expect to pay approximately $26.50 per square foot. For a moderate-sized basement this comes to an average total cost of $51,000.
The return on this investment if you should choose to sell your home sometime in the future is approximately 90%. For a final payment of $51,000, you can expect the value of your home to increase by nearly $49,000.
How Much Does it Cost to Finish a Basement Yourself?
The average cost of finishing your basement with a contractor may sound high, but you should remember that the square footage price is made up of two parts. Though you will be paying for the materials needed, a very large portion of the cost will be for labor and time. It is estimated that only 25% of the total amount you give a contractor to finish your basement will actually be going to pay the contractor. You can save this percentage by electing to finish your basement yourself.
Finishing a basement yourself is a large project, but is not undoable, and can be very rewarding. If you choose to take on this project your expenses will be materials and tools. If you already have the basic tools that are required to perform household tasks, you won't need to invest a tremendous amount more. The core materials needed for the finish run an average of $7 per square foot. For the same size basement, you can expect to pay a total of just under $13,000. You will have save over $38,000.
Finishing your basement on your own versus hiring a contractor will not make a difference, assuming that the quality of work and final product is comparable, in the amount that the value of your home increases. This means that the increase of $49,000 remains the same, despite you having invested far less, putting your return on investment well over 100%.
Save Money Finishing Your Basement
It is easy for the cost of your basement finishing project to skyrocket when you start adding special features. Having a bathroom in your basement increases the value of your house even further, and makes the living space more functional. It also increases the cost of your project by around $4,500.
Another option that is popular to add to a finished basement is a wet bar. A wet bar makes your finished basement an entertainment spot, and add sophistication to your space. It also adds around $10,000 to your project cost.
Choosing to finish your basement yourself will save you the cost of paying a contractor, as will keeping your project simple. If you want to keep your basement finishing project on a tighter budget, trimming extra features will keep your costs down. There is always the option of augmenting your basement later down the line.
If you would rather have a contractor complete the project for you, you can ensure the best price by requesting quotes from several candidates. Let each know that you are gathering information from multiple companies. Many contractors will happily compete for your business by lowering quotes or offering more services. This can help save money on your project, and may even give you access to features that didn't fit into your original budget.
How much does it cost to finish a basement? That depends on the size of your basement, how elaborate a space you want, and if you are willing to strap on a tool belt and undertake the project on your own. Regardless of whether you finish your basement yourself or hire a contractor, the return you gain, both financial and personal, are well worth the investment.