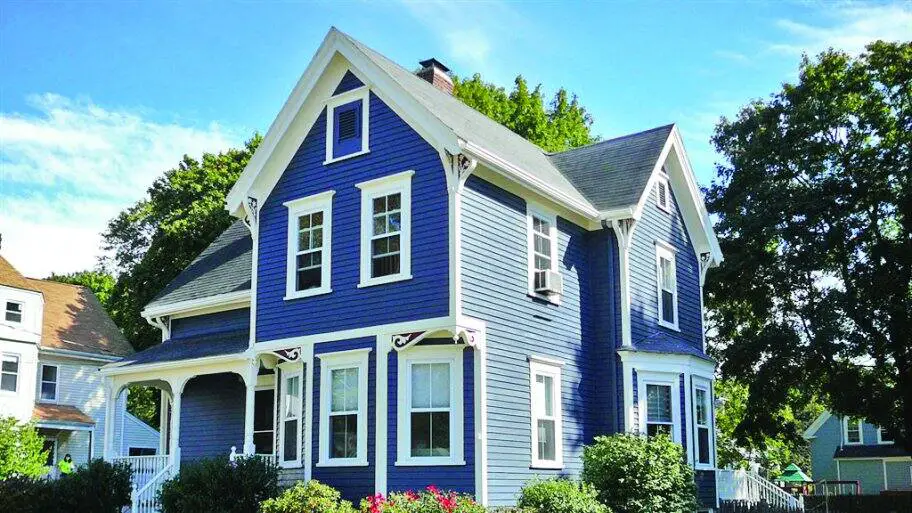 Painting your home gives it a fresh, cared-for look, especially if you have recently purchased an older home that has fallen into disrepair. By adding fresh paint you are not only greatly improving the aesthetic of a home, but you are claiming it as your own. A home that is being put on the market can also benefit from a new coat of paint in a neutral, appealing color. In most situations painting a house is a little more difficult that just climbing a ladder with a brush and swiping on a few coats of exterior quality color. Many homes feature characteristics that make painting them more difficult, such as multiple windows, decorative trim, or balconies and porches. If you are interested in giving your home or a home that you are planning to put on the market a rejuvenated look you could either purchase the materials and supplies and perform the work yourself, or you could hire a company to do the labor for you. Either way, you should begin by exploring the question "How much does it cost to paint a house?"
Considerations When Planning to Paint a House
Whether you choose to do the work yourself or hire others to do it for you there are certain considerations you should keep in mind. These include:
Before paint is applied to a home the exterior should be thoroughly cleaned. Cleaning the outside of a house should include a high pressure spray wash that will remove dirt, plant residue, bugs, flaking paint, mildew and other materials that will not only affect how the paint looks, but how it adheres to the house. Many painting companies offer this as part of their painting process.
When a house is being painted is the time to address issues such as rotted wood, broken siding, damaged shutters, insect nests, or other problems.
There are two options for actually applying the paint to the house. While spraying the paint on is the fastest, and therefore usually the less expensive, option, applying paint by hand will provide for a thicker and more accurate coat that will likely look better and last longer.
Most likely you will want the trim, shutters, and front door, maybe even the mailbox, painted to match the new color of the home. This either needs to be factored into your materials and time budget, or you should ensure with the company that you hire that these details are included in the price of the task.
Before you choose the color of paint that you want to apply to your home ensure that any home owners' associations or historical organizations that may have authority over your home do not have rules regarding the colors. Many such associations limit the paint color options that are allowed, and if your home is historic, a historic society may have regulations in place as to how the home must be maintained.
If your home was last painted prior to the 1980s you should be wary of the fact that the current paint may contain lead. This will require different methods for removal of the paint to ensure the safety of those around the project.
How Much Does it Cost to Paint a House?
Average costs of painting a home vary depending on the quality of paint chosen, the size of the home, and the number of professionals that participate in the project. Some guidelines are as follows:
A gallon of paint has an average cost of $25 to $40 for low to mid-range paint, while high-quality paint has an average cost of $50 to $100 per gallon.
The average home will require 10 to 15 gallons of paint to complete.
A small to medium-sized home will cost an average of $1,500 to $3,000 for professional services, while a larger home increases the price to around $3,000 to $5,500.
Factors that May Affect the Cost to Paint a House
If you are painting the house yourself you will need to rent a power washer to prepare the house for the paint. These washers have an average daily rental rate of $50 to $100.
Scaffolding or ladders can be rented for between $25 and $75 per day.
You will also need to pay for a variety of materials including drop cloths, brushes, and tape if you are performing the job yourself.
If you are changing the color of your house from dark to light, or light to dark, more layers of paint will be needed, which will increase the cost.
The quality of the paint can make a tremendous difference in how the house looks and how long it will last. It is generally advised that you purchase the highest quality that you can afford.
If there are problems such as lead-based paint or structural problems the cost of the project will be increased. Discuss these details with the painting company before signing a deal and shop around to determine which will offer the best rates for comprehensive service.
When asking "How much does it cost to paint a house?" make sure that you are asking not just how much it will cost for paint to be applied, but how much it will cost to ensure quality service and a warranty to protect the final project. This way you can rest assured that you will not only get to enjoy the look that you desire, but won't have to do it again for a few years.