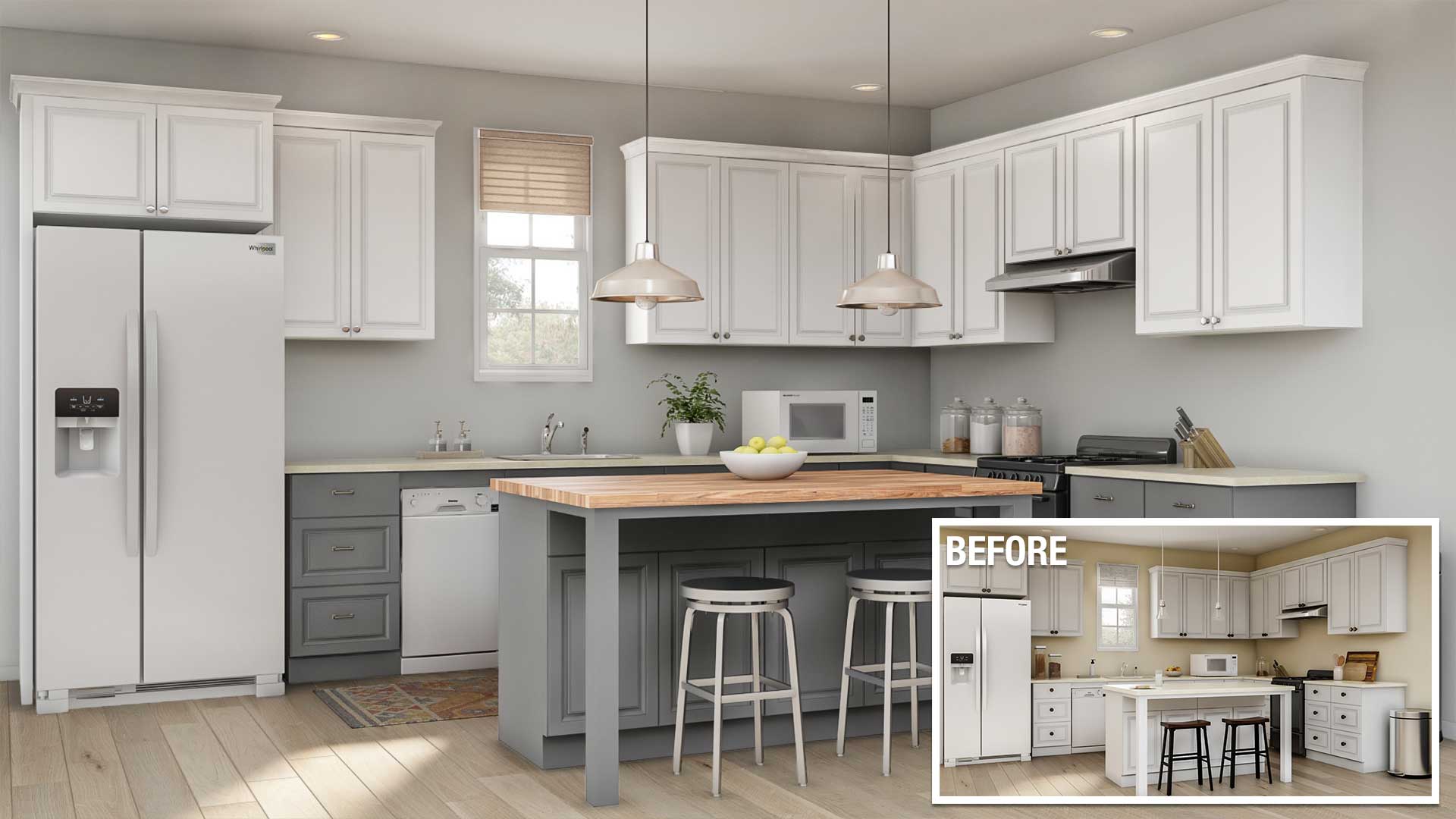 It happens to nearly every home owner. You wake up one morning, walk into your kitchen and start noticing all of the little things that don't exactly fit into your image of a dream kitchen. Sipping your coffee you think to yourself, "How much does it cost to remodel a kitchen?"
There are many benefits to remodeling your kitchen. Outdated or broken features and appliances can be replaced, functionality can be improved, and a more appealing aesthetic can be achieved. Beyond the benefits for yourself, you can expect to greatly increase the value of your home should you choose to sell it in the future. Of course, a remodel should not be undertaken simply for the augmented sales value of the home. Remodeling your kitchen takes time and money, and can be very inconvenient because you won't have access to your kitchen during the time of the remodel. It is important that remodeling your kitchen is something that will really improve your appreciation and enjoyment of your home in order for you to take on such a project.
Remodeling a kitchen can have varying degrees of complexity. You can choose a basically utilitarian remodel meant mainly to replace a very outdated kitchen, or an extravagant one meant to develop a dream room filled with both useful and beautiful accents. You could even choose to go somewhere in between so that you are creating a stylish new room without having to pay the high costs of all top-of-the-line upgrades.
"How much does it cost to remodel a kitchen?" isn't a question that is answered by one simple figure. When pondering the cost of such a home improvement you must take into consideration the cost of labor as well as materials. Before you embark on a journey of kitchen remodeling you should consult with a professional who will be able to discuss your needs and goals and give you an estimation of the time and financial costs.
Upscale Kitchen Remodel
An upscale kitchen remodel will include new appliances, countertops created from the best materials such as granite or marble, new cabinets, perhaps even new flooring and the addition of structural elements like islands and prep stations. This type of remodel can take months, and will require a tremendous amount of materials, including appliances. The average cost of a luxury kitchen remodel is over $81,000.
It is estimated that if you sell your home, over 80% of this investment will be returned thanks to the increased value of your property.
Major Kitchen Remodel
A step down from the extravagant upscale version of a kitchen remodel is considered a "major" remodel. This will likely still involve a few appliances, countertops and cabinets, but will not focus as much on the luxurious, and largely aesthetic touches. A midrange kitchen remodel costs an average of just under $44,000.
The sales return is estimated at around 91%.
Minor Kitchen Remodel
Some homeowners do not require a dramatic difference, or some of the gourmet elements that are included in an upscale remodel. Rather, they simply want updated appliances, and refreshed countertops and cabinets. A minor kitchen remodel, on average, costs under $15,000. This cost is almost completely recouped upon the sale of a home.
Getting the Most for Your Money
Even if you have expensive tastes or dream of a beautiful gourmet kitchen that will become the heart and entertaining hub of your home, there are ways to save on your kitchen remodel. Following a few simple tips can help you to stretch your remodel budget further.
Shop around for the best contractor. Competition still rules in the consumer industry and contractors will compete for your business. Get several bids, and don't be shy about letting them know that you are seeking other quotes. You may be able to negotiate a better price.
Make sure that the contractor you choose is reputable. Having to make up for shoddy work by a subpar contractor will be even more expensive than simply paying for a higher-end worker in the first place.
Focus on the aspects of your kitchen that are most important to you. If you are an avid cook, you may care more about having the best quality equipment than what your floors look like. On the other hand, you may be more willing to sacrifice having dual ovens and a cappuccino maker so that you can afford an island and a custom tile backsplash.
Similarly, ask your contractor to give you several options. You may be surprised that less expensive so-called "created" countertops are just as beautiful as luxury granite, or that finishing your old cabinets is just as effective as completely replacing them.
Getting the best quotes and choosing your ideal elements can make the journey from "how much does it cost to remodel a kitchen?" to cooking that first meal fun and low-stress.