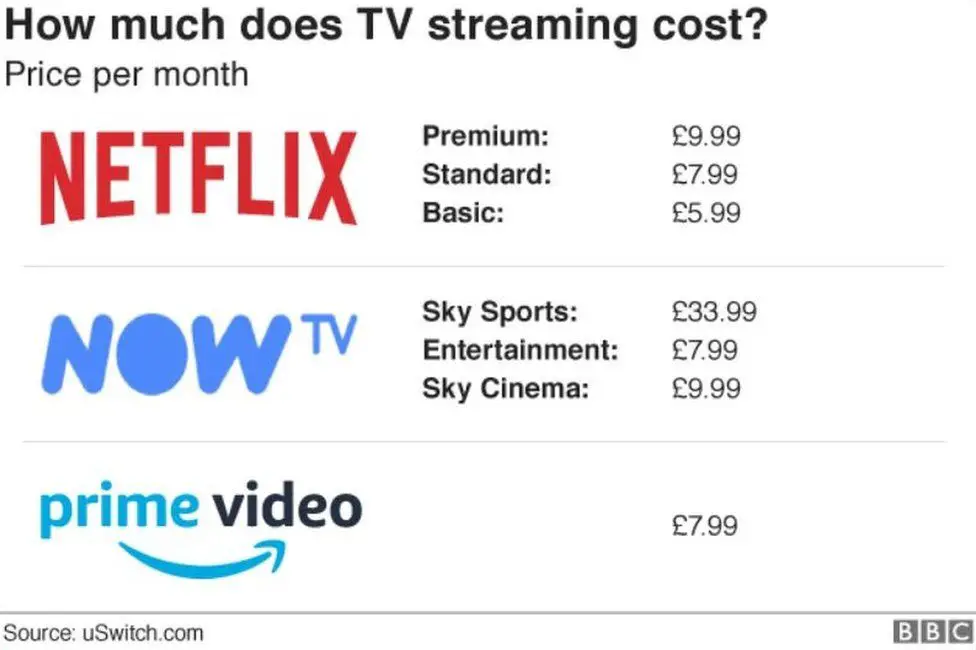 As a result of the "cord cutting" phenomenon, wherein individuals give up traditional cable packages in favor of streaming services like Netflix and Hulu, more people are gearing up for nights of Netflix binge-watching and "chilling." With all the perks that come with a Netflix subscription, it's easy to see why so many people — currently over 80 million — have signed up for it. Rather than let your television viewing be structured by the dictates of a cable TV schedule, you can choose exactly what you want to watch, and when you want to watch it. Best of all, getting access to Netflix's extensive database of movies and television shows comes at an extremely low price point. This How Much Guide to the world of Netflix will give you the scoop on Netflix, including the different Netflix plans you can buy, what you can expect to find in the Netflix database, and how Netflix stacks up to its streaming rivals.
Netflix: Three Plans
If money is your main concern in choosing Netflix, you're in luck. Although there are three price points through which you can access the Netflix database, none of them are expensive, and all of them are certainly cheaper than paying for a cable subscription. You'll feel like you're spending Monopoly money compared to what you'd have to shell out for a cable plan. Below you'll find in-depth descriptions of each plans, including lists of who is most likely to benefit from each plan.
One-Screen Plan
The cheapest of Netflix's purchase plans, the one-screen option will cost you $7.99 per month. This plan is so named because unlike the other two Netflix plans, users with a one-screen account can only watch Netflix on one screen at a time. So, for instance, if you are watching Netflix on your TV, you cannot give someone your Netflix password so that they could watch Netflix on their laptop. Another key feature of this plan is that you can only watch shows in standard definition; high-quality video like high-definition (HD) or ultra high-definition (Ultra HD) are only found in, respectively, the two and four-screen plans.
The one-screen plan is best suited for users who expect to be the sole user of their Netflix account, as there would be no need for the simultaneous streaming in that circumstance. (Unless you enjoy watching two different shows at the same time.) Those who are willing to sacrifice some video quality and multi-screen capacity in order to fit Netflix into their budget would also benefit from this accessible plan.
Two-Screen Plan
For just two dollars more ($9.99/mo), you can upgrade to a two-screen version of Netflix, meaning one account can be used to watch Netflix simultaneously on two different screens. This upgrade also comes with the option to watch Netflix programming in HD.
The two-screen plan is beneficial for those who intend to use one Netflix account for two people, meaning that married couples and small families would do well to sign up for this option. There doesn't have to be blood relation between the parties, however; friends looking to cut costs can split a two-screen plan in half, which would mean that each person only pays $5.00 per month for Netflix usage.
Four-Screen Plan
The biggest and best of all of the Netflix plans is ideally suited for those intended to watch Netflix on many screens. The $11.99/mo four-screen plan lets users watch Netflix on up to four screens simultaneously, and comes equipped with the coveted Ultra HD video quality. Those with large families would stand to gain the most from this plan, though as with the two-screen option, this four-screen setup can easily be split amongst four people who are looking to save some coin.
With the two and four-screen plans, you'll want to ensure that you have a solid Wi-Fi connection for two reasons: first, if you're streaming Netflix on multiple devices simultaneously, you're going to be using up your internet connectivity at a high rate; second, if you're using HD or Ultra HD, you'll also be putting your internet connection to a bigger test. (Netflix is also a huge data drainer if you're using it on a smartphone.)
When you go to Netflix's website, you'll see a graph explaining the features that come with each of the viewing plans. It looks like this:
From this chart, you can see that there are several core features that come with all three Netflix plans:
Total Access to the Netflix Database: The Netflix catalogue is viewable by all with a Netflix plan; there is no "premium content" that is only viewable to those with a more expensive Netflix plan.
Usability Across Multiple Devices: Irrespective of which Netflix account you use, you can watch it on televisions, computers (laptops and desktops), tablets, and smartphones.
Free Cancellation at Any Time
One-Month Trial: If you're interested in Netflix but unsure if (1) you will really use it all that much, and/or (2) you can fit it into your budget, you can sign up for Netflix for one month without any cost at all. At the end of that month, if you do not cancel your subscription you will be charged a full month's amount, so be sure to check your calendar to know when to cancel your Netflix subscription if you think you might not want to continue on with it.
The commonalities between the three Netflix plans are greater than the differences between them. The distinctions between the plans can be broken down into two features: (1) video quality and (2) number of screens that can be used simultaneously. Those looking for Netflix at its most rudimentary can safely purchase the one-screen plan and they will get all they possibly need; if video quality and simultaneous viewing are a primary concern, then you'll need to pay for the two or four screen plans. Luckily, they are only marginally more expensive than the one-screen plan; for just four dollars more than the one-screen plan you get three additional screens to watch Netflix on and pristine video quality.
Netflix and Its Competitors: A Comparative
If you need further evidence of Netflix's affordability, you need only look to what its competitors are offering. You can find a detailed breakdown of the prices of Netflix's streaming rivals — Hulu Plus, Amazon Prime, and HBO NOW — at Best New Movies on Netflix. For the purposes of this article, these quick summaries will paint a sufficient picture:
Hulu Plus: A limited commercials plan for the same price as Netflix's basic plan ($7.99/mo), and a no-commercials plan for the same price as Netflix's four-screen plan ($11.99/mo).
Amazon Prime: It is important to remember here that Prime is not just a streaming service; it is also a unique membership to Amazon that affords users a wide array of benefits, including free two-day shipping and access to a streaming music database. Unlike most streaming plans, Prime is paid once per year, at a rate of $99 per annum, or about $8.25 per month. At that rate, only slightly higher than what you pay for basic Netflix or Hulu Plans, you get one heck of a package, not just for streaming but also Amazon as a whole.
HBO Now: There are no differentiated HBO NOW plans: for $14.99 per month, you get total access to all past and present HBO programming. HBO NOW's price is one of the highest in the streaming world (it is topped by Sling TV, which starts at $20/month), but this par for HBO's course, given that the network likes to brand itself as a "premium" entertainment channel.
Like just about anything in life, Netflix will cost you, but the cost-to-benefit ratio of the service favors the latter. For less than ten dollars a month you can have access to one of the biggest names in streaming video, whose continually updating roster of original and third-party content promises to keep viewers stuck on the couch and bingeing for the foreseeable future.
Is Netflix Worth it For Me?
It's up to each individual to ask herself is Netflix is worth it for her. "Worth" is a relative term, not an absolute one; for someone who wants to spend money on Netflix and has the financial means to do so, then it will be worth it for that person to get Netflix. Someone who is unsure about Netflix and perhaps doesn't have the money for a monthly subscription will not find Netflix of worth, given that he might need hoard his pennies for other things.
Of course, money is just one of many factors that go into an individual's decision to sign up for Netflix. Selection is also a big element; for instance, those who love Netflix's ever-expanding roster of original TV shows (House of Cards, Unbreakable Kimmy Schmidt, Orange is the New Black) might find that even though they would be happy with most other content on services like Hulu or HBO NOW, they are willing to go with Netflix on the basis of the exclusive shows it has. Considerations like these all play a role in deciding to go with Netflix, so you'll want to make sure that you research Netflix from all angles before you take the dive. On the matter of how much Netflix is per month, fortunately, the choices are quite obvious.