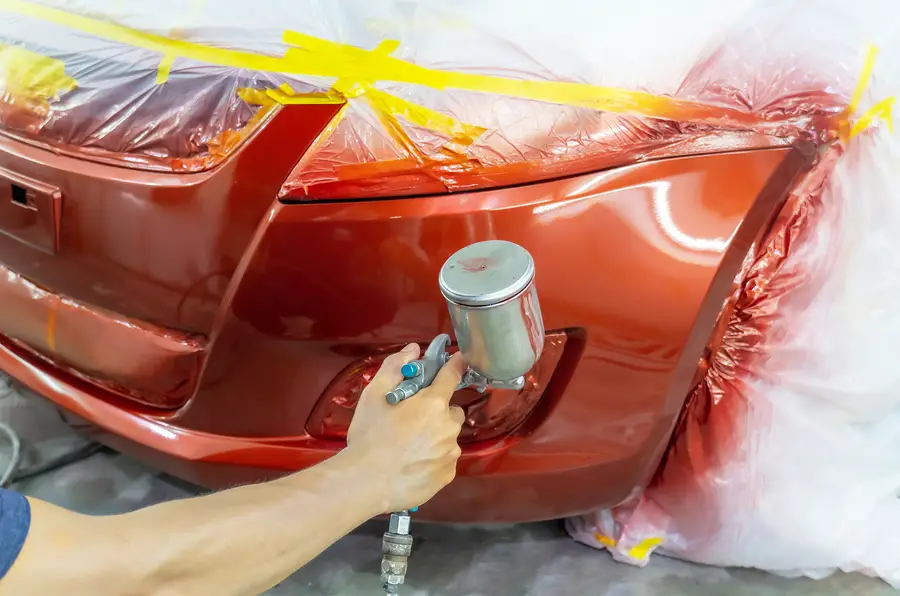 If you have gotten tired of the way your car looks, have gotten into a few minor scrapes with other objects, or simply hate the color of that used car you just purchased you may be interested in having your car painted. This is not a project that the average person could undertake in their driveway. You can't simply go to the hardware store, buy a gallon of paint, and slather a few layers onto your car and expect beautiful results. The paint and method that is used for cars is much different than that of homes, and if you want to change the look of your car in an effective and lasting way you will need to go to a professional who has not only the skill but the equipment to perform the task. You may be wondering, how much to paint a car? There are several factors that go into this answer.
What is Involved in Painting a Car
When you want to have your car painted the process is more complex than just bringing it into a shop and having some paint sprayed on. In order to get the ideal result your car will first need to be prepared. Most shops and independent car painters and detailers will follow a basic procedure for preparing and painting your car:
The car must first be prepared. This includes cleaning it carefully and then sanding it. Cleaning and sanding of the vehicle remove dirt, grease and residue from bumper stickers, as well as the old paint.
Parts of the car that don't need to be painted will be removed or covered. Depending on the type of car that you have this can be difficult and take a lot of time which will greatly increase the price of the paint job. In some instances you can do some of these removals yourself to save the painter time and labor, which will in turn save you money.
If needed the technician will perform any small body repairs such as fixing dents.
Once the car is fully prepared at least two layers of paint will be applied. An optional layer of clear gloss top coat can be applied for further protection and a more appealing aesthetic.
The painter will then do other tasks such as detailing and adding chrome.
How Much to Paint a Car?
You have several options when it comes to choosing where your car painting will be performed. This will make a major impact on how much the final project will cost.
Low cost car repair chains can charge as little as $250 to $400, but they are not necessarily the best option if you want major changes or unique detailing.
For basic work with a good quality final result you can expect to pay an average of $1000 to $2000.
If you want major work done, such as a complete change to the color of the car, detailing, chrome work, or serious body work, you will need to go to a custom body shop, and are likely to pay between $4000 and $8000.
Factors that May Affect the Cost of Painting a Car
Be sure that you get a quote prior to committing to having a particular body shop perform your car painting project so that you can be sure you know the charges for each thing that must be done. You may even want to get quotes from several different shops and compare not only the price, but what is included for that price and the reviews of previous consumers. Some factors that may affect how much you will pay to have your car painted include:
Minor bodywork can cost between $200 and $500, depending on the severity of the work.
If you have a large vehicle, particularly if you want to completely change the color, it will increase the price.
For added depth of color, and resistance to peeling and wear, you can request extra layers of paint beyond the usual two.
You can add extra shine and protection for your paint by requesting a layer of clear coat on top.
Of course, higher quality paint will cost more than mid-range or lower quality paint, but will last longer.
To ensure that you are going to get a result that you want, don't just call a body shop and ask "How much to paint a car?". Ask for information about warranty—it should be a few years, let them know any work that might need to be done, ask for information about the different types of paint that they offer, and ask if you can visit the shop to see the painting booth. You're going to have to look at your car everyday—so you're going to want it to look good!